Posted under
Networking
,
Routers
,
Servers
,
Vista
,
Windows 7
,
XP
by ifoundafix
The other day I Found A Fix for a recent problem I was having. The issue is described as follows;
I needed to be able to access more than one pc in the office network remotely using Remote Desktop Connection. Since RDP is set to use port 3389 I had to make several changes.
1. Change the default port number on the second (listening) computer. To do this;
– Start Registry Editor. [Start, Run, Regedit]
– Locate and then click the following registry subkey: HKEY_LOCAL_MACHINE\System\CurrentControlSet\Control\TerminalServer\WinStations\RDP-Tcp\PortNumber
– On the Edit menu, click on Modify, and then click Decimal.
– Type the new port number, exampleand then click OK.
– Quit Registry Editor and restart the computer.
2. Modify the router to port forward this new port number to the specified IP address of the specific machine you are trying to connect to.
Note: You should ensure that both router firewall and software firewall allow access via this port.
 3. Make sure you specifiy the new address:port when connecting over RDP.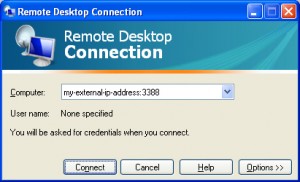 I hope you too have Found A Fix!
Expect log sequence 'xxx' but found 'SERVER\Microsoft Information Store\ First Storage Group\xxxx.log Ahsay backup